This weekend, on 1-2 February, FOSDEM 2014 will take place in Brussels, Belgium.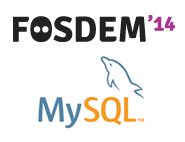 There will be MySQL talks on Saturday in the MySQL Devroom and a MySQL Community dinner afterward.
30 people have already signed up for the community dinner, we're almost at the amount of people from last year.
Last orders for the MySQL Community dinner will be accepted on Wednesday 29 January, so if you plan to attend, make sure to buy your tickets now. After that day, we
[Read more...]